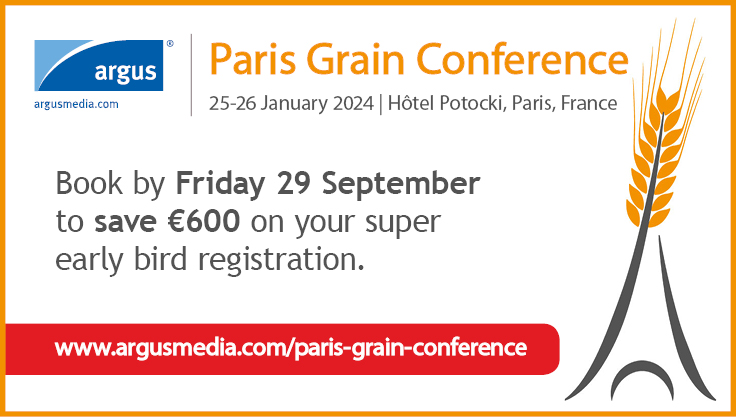 European market
Sharp decline in prices on Friday amid fears about the consequences of the Omicron variant. What is the impact of this new strain on the market? This is the question that everyone is asking, in a context of total uncertainty. The markets are therefore facing a very high volatility. We will have to wait about 15 days before having more clues about consequences.
Nevertheless, Egypt is taking advantage of the fall in prices to launch a new call for wheat tenders for the period from 9 to 20 January. Jordan is buying 120,000 t of feed barley.
In Australia, concerns about wheat quality remain due to heavy rainfall at harvest time. This is providing support on Euronext with December prices continuing to fluctuate around €300/t.
The EU wheat export figures only include 822,000 t of French origin due to technical problems related to the collection of exported volumes from third countries. In this context, it is difficult to interpret the EU export activity, considering that France has exported more than 3 Mt since the beginning of the campaign.
The price of the Euronext corn also fell on Friday in the wake of wheat. While the harvest in France is coming to an end, according to the Minister of Agriculture, there is still about 12.5% of the area to be harvested in Ukraine.
Rapeseed dipped sharply on Friday while Canadian canola prices returned to record highs.
The dollar is trading at 1.1275 against the euro and 74.80 against the ruble. Oil rebounds in NY from Friday's slump to 71.20 usd/barrel this morning.
American market
Wheat and soybean prices fell sharply on Friday amid concerns about demand in a context of aggravating global health context. However, the US markets rebound in pre-opening this morning.
Corn was supported by above expectations' export inspections released at 1.429 Mt.
In soybeans, export inspections came in at 1.565 Mt, a decent number reflecting good activity to China but within traders' expectations.
In wheat, export inspections amounted to 567,500 t, at the top end of the expectations range.
Ethanol demand remains strong despite the decline in oil prices in recent days.
On Friday, funds were net buyers in corn for 1,000 lots but net sellers in soybeans for 12,000 lots and wheat for 9,000 lots.
Black Sea market
Sharp fall in prices in the Black Sea basin in the wake of the other exchanges, as a consequence of the Omicron variant. In Russia, the export taxes will rise from 78.30 usd/t at present to 80.80 usd/t for the period from 1st to 7th December.
The competitiveness of Russian origins will be tested today with the Egyptian wheat tender.
Temperatures are currently returning to positive territory in Kyiv, before a new cold spell expected in the next few days. However, markets are not showing any concern about it so far.