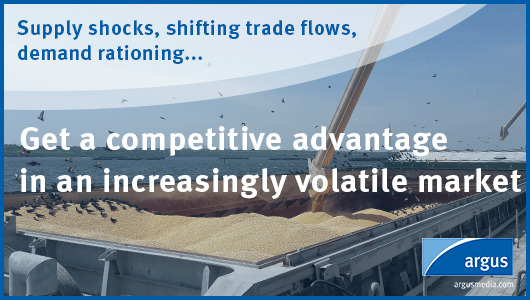 European market
All commodity prices continued to fall in a context of technical correction and profit-taking after the recent increases and as a precautionary measure before tonight's USDA report, which will be released at 6pm Paris time.
This downward movement is accompanied by a decline in freight prices and to a lesser extent by energy prices which seem, at least temporarily, to be stabilising.
We are noticing a slowdown in shipments and in demand for European wheat by buyers in this beginning of November. From a weather point of view, sowing in France is taking place in good conditions. In Australia, the current rains could degrade the quality of the upcoming crop.
Internationally, USA sold 150,000 t of corn to Colombia and Turkey launched a tender for 325,000 t of corn.
Rapeseed fell back again in the wake of other vegetable oils, notably palm. Tomorrow's MPOB report could see stocks in Malaysia rise. Only canola was back in positive territory on Monday.
The dollar is dealing at 1.1600 against the euro and 71.26 against the ruble. Oil was little changed at 81.80 usd/barrel in New York.
American market
Chicago's prices declined on the eve of the USDA report.
The planting in Brazil is going well. In addition, China seems to be slowing down its purchases, particularly of soybeans. Thus, soybean prices are at their lowest level in a month. US Soybean harvesting is 87% complete as of Sunday, compared with 88% to date over the past five years. The corn harvest is 84% complete, compared to an average of 78% to date.
According to AgRural, 67% of the soybean area in Brazil has already been planted thanks to favourable weather. This compares to 56% last year to date. Planting of the first corn crop is 75% complete compared to 68% last year.
The USDA's early estimates for 2022 spring plantings show corn at 92 million acres versus 93.3 this year, soybeans at 87.5 million acres versus 87.2 and wheat at 49 million acres versus 46.7 this year. However, we will have to wait for the official figures on planting intentions next March to have a better idea.
The winter wheat crop rating is at 45% of good to excellent, unchanged from last week.
Yesterday, funds were net sellers in 3,000 lots of corn and 11,000 lots of soybeans. They were net buyers in 1,000 lots of wheat.
Black Sea market
Activity on the Black Sea basin markets is reduced at the beginning of the week, in a context of uncertainty about the trend of prices. While global balance sheets remain tight, the risk of a slowdown in global growth is a matter of concern with the new wave of Covid.
In Ukraine, corn prices are losing ground as a result of harvest pressure. Analysts at Agritel are estimating a crop of 38.2 million tonnes.