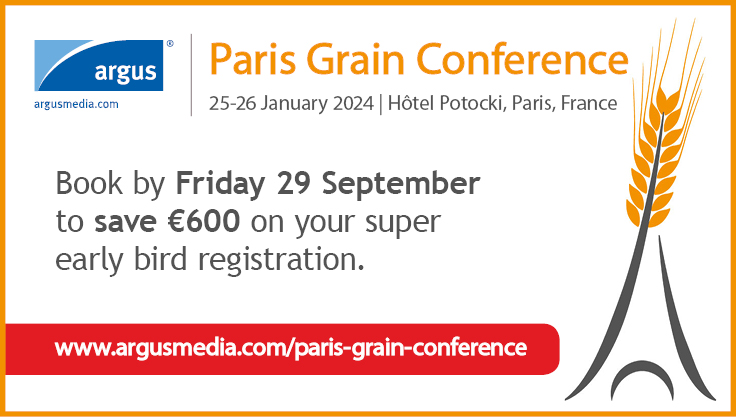 European market
There was little movement in cereals yesterday as the market seeks to consolidate after testing all-time highs in euro this week. In dollar terms the market still has an upside potential based on historical prices.
The rebound in Covid cases around the world is worrying traders . Indeed, the economic activity could again be slowed down in the event of a new outbreak.
The FAO is reporting food prices at their highest level in 10 years, since July 2011. The body estimates the global cereal production at 2.793 billion tonnes against 2.8 billion estimated last month. The market is unbalanced this year with demand outstripping supply, leaving no room for any climatic incident next year.
In Argentina, the beneficial rains are allowing the Buenos Aires stock exchange to be optimistic about the upcoming wheat crop. It is estimated at 19.8 Mt, corn at 55 Mt and soybeans at 44 Mt. On the international scene, USA sold 100,000 tonnes of soybeans to Egypt. In China, the authorities are trying to reassure the population about a shortage of some food products after inviting the population to build up stocks.
Corn prices continue to be supported by the delay in harvesting, particularly with logistical and drying difficulties.
Palm prices are losing ground this morning in Kuala Lumpur amid expectations of an upward revision of November stocks in the report that will be released on November 10. In the wake of canola, rapeseed was also losing ground yesterday at closing.
Oil is down to 79.60 usd/barrel this morning in New York and the dollar is strengthening to 1.1560 against the euro and 71.60 against the ruble. The Opec+ countries have declined to increase their production beyond the agreed 400,000 bpd from December. However, consumer countries may decide to draw on their reserves to limit the rise in prices. As a result, the market is falling slightly this morning.
American market
Chicago traded lower on Thursday with expectations of an upward revision in US soybean and corn production in the USDA report due next Tuesday.
However, in pre-opening, prices are picking up a bit, especially in wheat. Wheat weekly export sales have been reported at 400,100 tonnes, corn at 1.224 Mt and soybeans at 1.864 Mt.
According to the USDA, China could import 101 Mt of soybeans this year, above last season's record of 99.8 Mt. India could export 5 Mt of wheat this year, according to the USDA.
Yesterday, funds were net sellers in 5,000 lots of corn, 15,500 lots of soybeans and 4,500 lots of wheat.
Black Sea market
In the Black Sea region, water deficit is still a concern for autumn planting in both Ukraine and Russia.
Despite this, cereal prices gave up some ground yesterday in the wake of other markets.
There has been a clear resurgence of Covid cases in this region. The situation in Russia is particularly worrying.