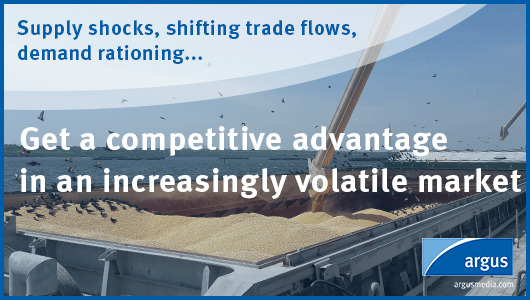 European market
Spectacular rebound in all commodity prices yesterday showing again the extreme volatility on all markets. This is linked to intense activity from financial funds since the fundamental balances have hardly changed as noted in our editorial yesterday.
Internationally, Saudi Arabia is looking for 720,000t of wheat and the US has sold 152,400t of 2021 crop maize to an undisclosed destination. There are three ports of discharge and the merchandise is expected to arrive between 10 July and 30 September.
A geopolitical element to be taken into account in the coming weeks is China's reaction to the Biden administration's willingness to investigate the origin of the covid pandemic.
In its monthly report yesterday, the IGC revised world production of all grains upwards to 2,292 billion tonnes from 2,220 last year. The world's leading cereal, corn, is expected to be produced at 1.194 billion tonnes.
The European Commission has revised upwards the EU wheat production for the next season to 126.2 million tonnes from 124.8 million tonnes estimated last month. However, end-of-season stocks for 2021/2022 has been revised downwards to 10.8 million tonnes from 11.4 million tonnes last month. Exports outside the EU zone are posted at 30 million tonnes against 27.0 million in the previous campaign.
Oilseed rape also showed a spectacular rebound of prices both because of chartist reasons and because of tight fundamentals at the European level.
The dollar is down this morning at 1.2185 against the euro and 73.40 against the rouble. Oil is back up at 67.20 usd/barrel.
American market
Wheat prices rose sharply yesterday, both on technical side and on fears of water shortages in the northern Great Plains of the USA. Export sales this week at 403,000t are within the range of expectations.
Corn was supported yesterday by the recent selling activity to China, coupled with the fact that export sales did not show large volumes cancelled, contrary to rumours in recent days. Initial estimates of corn imports by China for the coming season stand at 26 million tonnes.
In soybeans, according to the Buenos Aires Stock Exchange, production in Argentina is expected to be 43.5 million tonnes compared to 43.0 million tonnes estimated last month.
Funds were net buyers yesterday for 32,500 lots of corn, 20,000 lots of soybeans and 15,000 lots of wheat.
Black Sea market
The low-pressure system over the Black Sea area is bringing significant rainfall. The Romanian plains as well as those of central Ukraine and the Russian Kuban have been well rained over the last 7 days with more than 30 mm.
For the next 7 days, weather models anticipate equally heavy rainfall, even in areas that have remained dry recently, namely south-eastern Ukraine and the Russian Central District. These rains bode well for the production potential of the widely spiked wheat in the region, although adequate fungicide protection will be needed to preserve the quality of the future crop.
The main spring wheat growing areas in Russia are not likely to benefit from this rainfall.