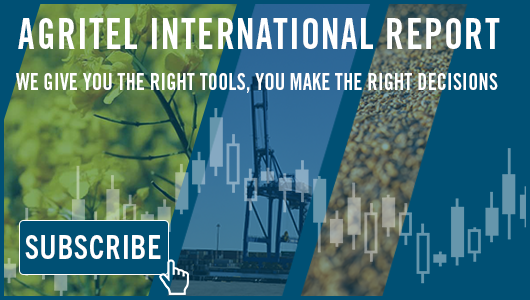 European market
Cereal prices have again risen, thanks to the sustained international demand for cereals and oilseeds, mainly in the wake of soybean, where the crop year's hunger gap between the USA and Brazil promises to be very tight.
Yesterday, the US sold another 140,000 tonnes of corn to an undisclosed destination. China remains the major player in the rise of world prices. The country continues to show an active import demand for wheat from France. Agritel analysts expect French exports to this destination in the current crop year to be close to 2 Mt.
Weather conditions in France remain almost ideal for autumn sowing, with areas that will rebound sharply after last year's difficulties. In Russia, sowing is now complete. Wheat acreage is also up compared to last year. However, the state of the crops is often insufficiently developed with the arrival of winter and negative temperatures.
Vegetable oil prices are still rising, with canola at its highest level in 7 years and rapeseed at its highest in the campaign. The same situation is seen in palm oil, which has been at its highest since May 2012.
In the financial markets, little has changed with the dollar at 1.1850 against the euro and 76.00 against the ruble. Crude oil is posted this morning at 41.60 $/b on New York.
American market
Soybeans showed significant volatility yesterday in Chicago. However, the price levels reached could end up limiting the enthusiasm of buyers. Fears among traders are focused on possible delivery failures by Brazilian farmers, as happened in Ukraine with the surge in corn prices.
Wheat was also up, with its fundamentals not specifically calling for an increase, but the market is indirectly supported by corn.
Funds were net buyers for 12,500 lots of corn, 6,500 lots of soybean and 4,000 lots of wheat. The latter could make profit-taking next week, with Thanksgiving on Thursday 26 November when the US markets will be closed.
Black Sea market
Following the increase in palm oil, sunflower oil prices continue to rise to trade now at around 1100 $/t on FOB Odessa. Sun oil prices for the 2020 harvest have increased by more than 50% since mid-summer. Sun meal prices are also rising day by day, with FOB Odessa at 315 $/t, up by 40% since 1 July.
In a context of reduced harvests and the crusher's need to secure volumes for the rest of the season, sunflower seed continues to soar, gaining 50 $/t over the last 10 days and now stands at over 650 $/t (incl. VAT) ex-works near Ukrainian ports. This price, denominated in hryvnia, is equivalent to more than 18,000 UAH/t for 48% oil content compared to 12,500 UAH/t two months earlier. Many producers wish to wait until this market reaches 20,000 before making the next sales...