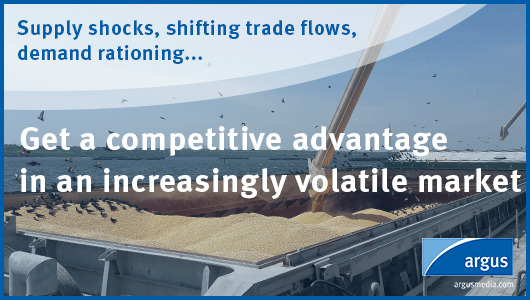 European market
Wheat prices fell again yesterday, in part as a result of better weather conditions in Europe, but also on the prospect of rains in the Black Sea region at the end of the week.
Crude oil prices rose sharply yesterday, although remaining low, posted at 16.80 $/b in New York. Norway has just decided to reduce its production by 300,000 barrels per day, for the first time in 18 years. Even if it does not seem important in the world production scale of around 100 Mbpd, it remains a psychological signal for the market, Norway being the first producing country in Western Europe.
The euro is still evolving little, posted at 1.0860 against the dollar, operators expecting little change from the ECB today.
On the international scene, Mexico bought a little more than 108,000 t of US soybeans and Taiwan bought 65,000 tonnes of corn from Brazil. Ethiopia is purchasing 400,000 t of wheat.
In corn, the areas in France could increase by around 10% according to the AGPM, a consequence of the decrease in winter crop areas which could not be sown with other cereals, or because of turning over of several fields.
Palm oil rebounded slightly in the wake of crude oil as exports in Malaysia fell by -35% over the period March 18/April 14. Rapeseed prices increased very slightly yesterday supported by soybean prices and crude oil.
American market
Chicago saw a new drop in wheat prices yesterday, both caused by the sale of profit-taking from long positions, but also due to the improvement of climatic conditions on both sides of the Atlantic.
Corn found some support in a slight increase in consumption in the ethanol sector. However, this rebound remains limited by the prospects for a big future harvest. Sowing is progressing normally at the moment.
In soybeans, the market welcomed the rebound in crude oil prices and Trump's decision to maintain activity in processing plants despite the epidemic.
The funds were net buyers yesterday for 5,500 lots of corn and 4,500 lots of soybeans. They were net sellers for 6,500 lots of wheat.
Black Sea market
In May, Kazakhstan will continue its quota policy on wheat and flour exports. Thus, if the level of exports allowed in April was 200,000 t of wheat, it increases to 250,000 t in May. Exportable flour volumes are also revised upwards from 70,000 to 150,000 t. As of May 2019, the country had exported nearly 400,000 t of wheat and nearly 100,000 t of flour. These measures, therefore, have a significant impact on the country's export activity. It will be interesting to follow the progress of these measures over the next few months, as fieldwork on the northern plains has just started.