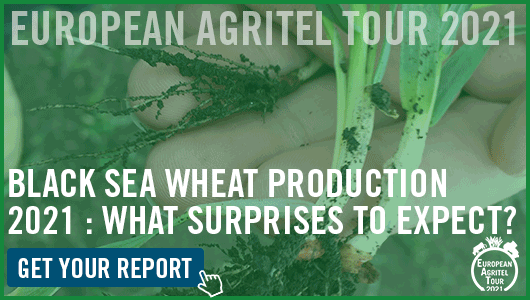 European market
All commodities products retreated yesterday due to raising concerns and uncertainties about the economic and sanitary crisis.
Crude oil prices are steady, the WTI is currently dealing around 25.50 $/b in NY. On the currencies, the Eurodollar is not significantly evolving at 1.0815.
Low temperatures recorded, especially in Germany and Poland, could have some negative consequences on the crops.
On the international market, Algeria bought 480 000 t of wheat, probably sourced from France if we look at prices. We can also note the sale of 198 000 t of US soybean to China.
In its monthly report, FranceAgriMer has revised upward its estimation of French wheat export toward third countries for this campaign at 13.3 Mt vs 13.2 Mt seen last month. This is a progression of +38% compared to last year. Nevertheless, the report stock is revised up to 2.9 Mt vs. 2.6 Mt estimated in April. This is the consequence of a lower demand from the animal feed sector. Indeed, these players are currently favouring the corn at the expense of the wheat. Consequently, the corn report stock is cut to 2.2 Mt vs. 2.4 Mt seen one month ago.
The rapeseed dropped yesterday following a weaker canola that did not confirm its good orientation from the beginning of the week. Palm oil is losing ground again to test the psychological level of 2 000 ringgit per tonne on nearby deliveries.
American market
Wheat prices fell sharply yesterday in Chicago, following the USDA report, which revised upwards the wheat world carryover stock to 310 Mt for the future season, against 295 Mt for the current campaign.
Soybean and corn prices were also falling, due to rapid plantings in the US. Despite poorly remunerative price levels for farmers, the acreage should be record. Indeed, farmers benefit from a very protective price insurance system.
Yesterday, funds were net sellers in 13 500 lots of corn, 10 500 lots of soybean and 10 000 lots of wheat. To see such a selling activity, you have to go back to April 24.
The only support for now on agricultural commodities is the return of Chinese to US soybeans purchases, raising hopes of seeing other products exports gaining momentum as well.
Black Sea market
In Russia, the planting work is continuing and is still ahead of last year's progression. More than 55% of spring cereals are already seeded; 70% for the barley and 40% for the wheat. In the southern or central districts, work is 70% advanced, compared to 50% for the Volga and 30% for the Urals and Siberia. Recent rains recorded in the country ensure a homogeneous crop emergence as well as a promising establishment. Thanks to higher acreage, Russia could register record levels of corn and soybean production in the next season.