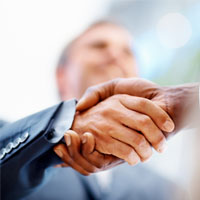 With an increasing development in France and abroad, Agritel is constantly looking for new employees.
The Company intends to offer to new consultants the possibility to fully express their potential during various missions.
Working for Agritel, it is joining a team of enthusiast people with recognized expertise. Working for Agritel, it is a team job in a dynamic environment with sharing of same values : comitment, team spirit, curiosity and ambition.
Agritel
10, avenue de la Grande Armée
75017 PARIS, FRANCE
+33 (0)1 53 05 96 70
+33 (0)1 53 05 96 71
recrut@agritel.fr
MISSIONS
Suivi des marchés de matières premières agricoles (céréales et oléo protéagineux essentiellement).

Rédaction d'analyses de marché et animation de réunions de marché.

Animation de formations sur le fonctionnement du marché des grains, des marchés à terme, de la mise en marché et de la gestion du risque de prix.

Missions d'audit/conseil en gestion du risque de prix

Conseil en stratégie de commercialisation auprès d'Agriculteurs, de collecteurs et d'industriels.
PROFIL
Ingénieur(e) Agri/Agro exclusivement avec idéalement une première expérience sur le marché des grains et/ou la formation sur les marchés à terme. Vous êtes avant tout curieux(se) et dynamique. Vous avez le goût de l'agriculture et des marchés. Vous êtes autonome et travaillez avec rigueur. Vous aimez communiquer à l'écrit comme à l'oral.
Vous pouvez exercer votre métier aussi bien en Anglais qu'en Français.
Vous êtes à l'aise dans une ambiance de travail jeune et challengeante.
CONDITIONS
Poste CDI basé à Paris 17ème, déplacements réguliers en France essentiellement.
Rémunération selon profil et expérience.